The football meeting taking place here at Macks Creek High School at 6 PM will now be conducted in the High School gym. Parents and students, please enter the building by where you would for a home basketball game. #MCPirates

The football parent/student meeting will move forward this evening with a 6:00 PM start time and will now be moved to the library. If there is a large turnout then the meeting will be moved to the High School gymnasium for better accommodations due to space. Coach Griffin is very excited to meet each of you! We will see you all tonight here at Macks Creek Schools for this great opportunity. #MCPirates

The Pirates season comes an end with an 11-0 loss in six innings to the Hermitage Hornets. #MCPirates

The Pirates load the bases in the bottom kf the fifth but are unable to push any runs across. Heading into the top of the sixth its the Hornets 9, Macks Creek 0. #MCPirates

Hermitage plates five in the top of the fifth to take a 9-0 lead going into the bottom of the inning. #MCPirates

Heading into the top of the fifth the Pirates are still behind the Hornets, 4-0. #MCPirates

Macks Creek puts a runner at second in the bottom of the third but is unable to score. The Pirates now trail 2-0. #MCPirates

Heading to the top of the third its still 1-0 Hermitage. #MCPirates

One complete in Hermitage with the Pirates trailing, 1-0. #MCPirates

Class 1 District 6 first round action as the sixth-seeded Pirates take on the third-seeded Hermitage Hornets in Hermitage. Let's go Pirates! #MCPirates

The Missouri Department of Health and Senior Services recently released an article entitled "Keeping Infants Safe in Midst of Formula Shortages." To learn more please use the following link:
https://5il.co/1alys
. The article includes numerous helpful links to resources. Thank you for passing this on to anyone who may be impacted by this shortage. #MCPirates

Congratulations to Molly and Caleb who both ran hard and advanced to State in the 3200 meter once the storm clouds cleared. Caleb finished third in the 1A Boys Sectional and Molly finished second in the girls 1A Sectional. The 4 x 400 Relay Team of Kyler, Jose, Obediah and Caleb ran a PR, but came up just short of a chance to compete at State next week in Jefferson City. We are so proud of all of you! #MCPirates

The MCHS Track team is having a productive day at Sectionals at College of the Ozarks. Congratulations to Brooklyn Duggan (100 meter hurdles), Caleb Phillips (1600 meter), Molly Phillips (1600), Adriana Mayer (400 meter) and Jose Cortez (300 meter hurdles) who all advanced to State! After taking shelter from a severe hail storm, the team is waiting for the go ahead to resume the meet. Good luck to Molly and Caleb who are waiting to run the 3200 meter and Jose, Kyler Gabriel, Obediah Tower and Caleb waiting to run the 4 x 400 meter relay! #MCPirates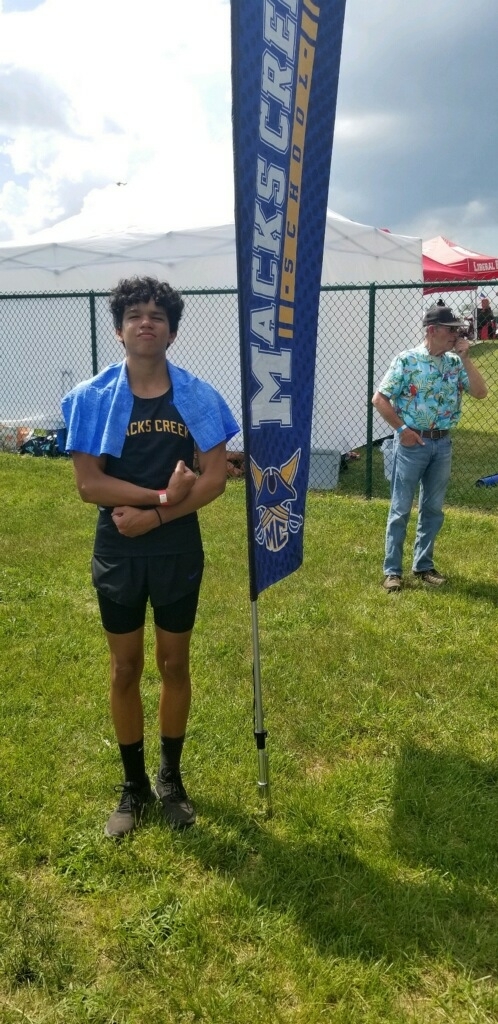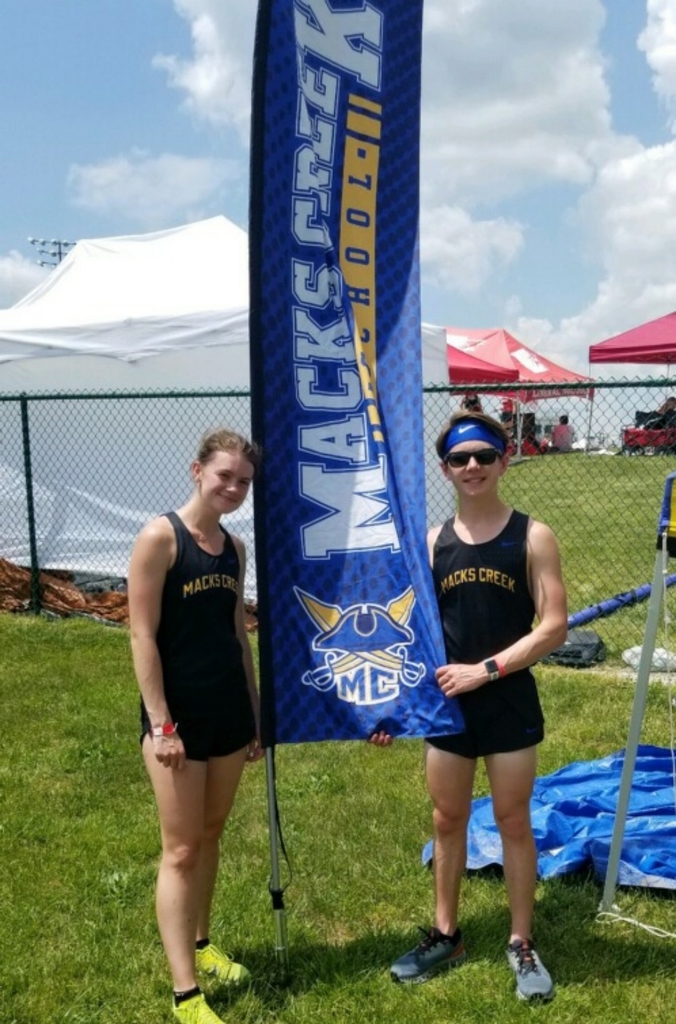 Good afternoon Pirate family! Tonight we celebrate the Macks Creek High School Class of 2022! Doors will open to the public at 5:00 p.m. Graduation will start at 6:00 p.m. This class has worked hard during their high school careers and are ready to complete their final step as students before entering into the world and conquering anything they have placed before them! They will definitely make our school, family, friends, and community proud! Congratulations to the Macks Creek Graduating Class of 2022! #MCPirates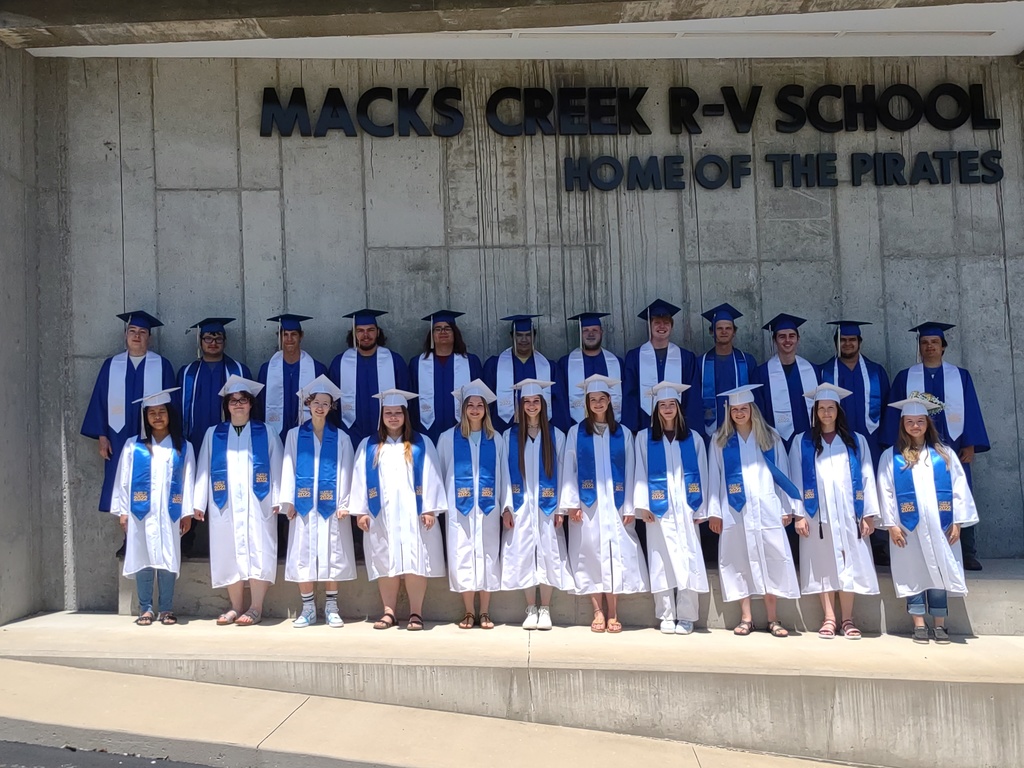 Parents, fans and spectators the admission for the sectional track meet this Saturday May 14th is digital ticketing ONLY. All spectators ages 6 and above are $7.00. Follow the link provided to purchase your tickets.
https://www.mshsaa.org/CMSPages/Tickets.aspx
. Click on Track and Field, then click class 2, and lastly click the button that says get tickets for School of the Ozarks. Then you can put in as many tickets as you would like and then submit your payment. #MCPirates

There will be a Football meeting in the cafeteria here at Macks Creek, Tuesday next week 5/17 with a 6 PM start time for all parents and students to meet Coach Griffin and learn more of what the summer workout schedule will look like. This is also pending how the Macks Creek baseball team does Monday at their district baseball game. If they win, the meeting will be pushed back to Wednesday evening with the same start time otherwise it will stay on Tuesday. An UPDATE will come out Monday evening, stay posted Pirates! #MCPirates

The baseball game that was scheduled to be played at Wheatland tonight 5/11, has been cancelled due to unforseen circumstances. It will NOT be rescheduled. #MCPirates

Today's second Class of 2022 Senior Spotlight is Cam Payne. #MCPirates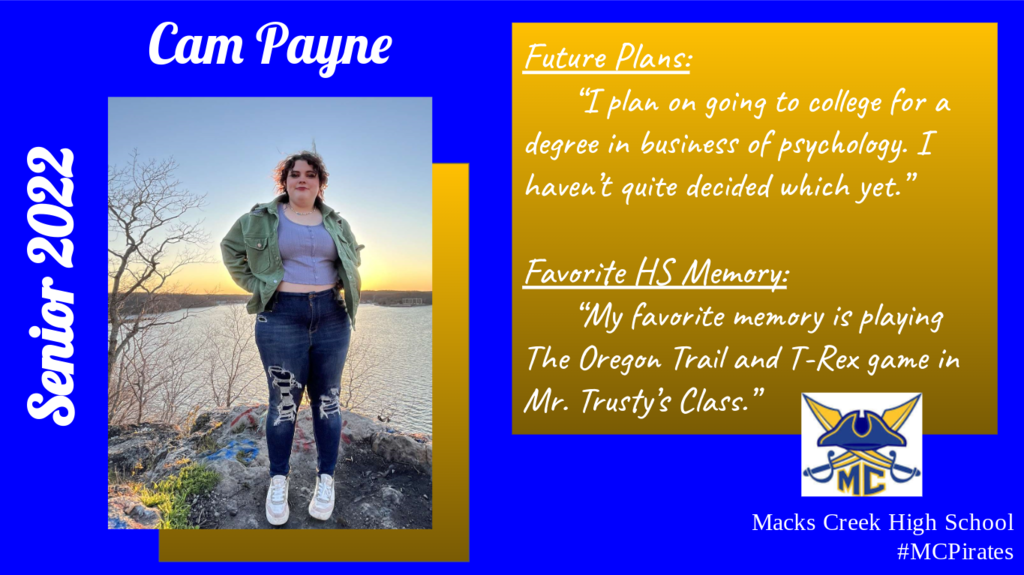 Today's first Class of 2022 Senior Spotlight is Iza Mahawan. #MCPirates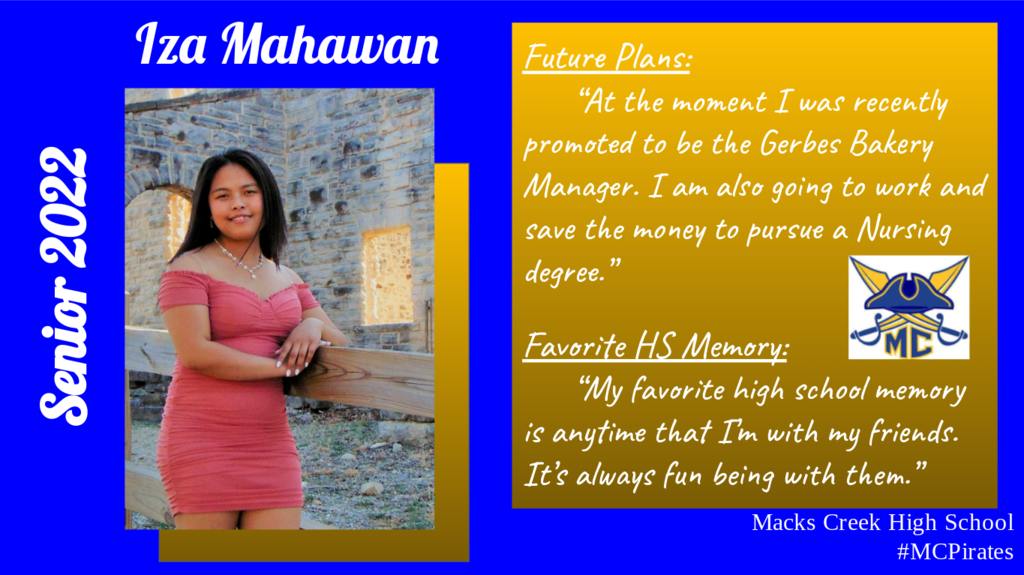 Macks Creek Senior Austin Brown recently signed his Letter of Intent to continue his basketball career with the Westminster College Blue Jays. Austin has been a member of the Pirates' basketball team for his his entire high school career. Congratulations Austin! #MCPirates