Monday, March 14th, was a big night for the Macks Creek basketball program. Forty-four players from all classes around mid-Missouri were honored at a banquet at the Cowan civic center in Lebanon. The Pirates and Lady Pirates were well represented.
Senior Mason Whitworth and Junior Logan Gallamore join the list of Macks Creek boys to be honored as KJEL All-Stars. India Willis and Brooklyn Duggan, both Freshmen, also joined the list of Lady Pirates to be honored as KJEL All-Stars. KJEL has broadcasted basketball games from Springfield to St. James and from Versailles to West Plains for over twenty-five years. Larger schools typically dominate the field and of the twenty-two schools represented, Macks Creek was the only 1A school honored.
After all the players were introduced by their coaches, the thirty Macks Creek family and friends in attendance were pleasantly shocked and thrilled when our own India Willis was introduced as the girls Player-of-the-Year! "For a small school like ours to have a player receive this award was truly something special. Considering that she's a freshman was a tribute to what she accomplished this season", commented Coach Ron Duggan.
India scored 638 points this season, averaging 24.5 points per game. In addition, she shot 77% from the free throw line where she was 203 for 262. She led the team in steals with 147 and pulled down 226 rebounds. She had 10 double-doubles and scored over 30-points eight times during the season.
Brooklyn Duggan scored 360 points this year averaging 15.0 points per game. She was one of our team leaders and was selected as a team captain. With 5 seniors on the team, that was quite an honor. She led the Lady Pirates with 127 assists and was second in steals with 95.
Mason Whitworth led the pirates averaging 15.0 points per game, pulled down 134 rebounds and made 21 three's, shooting 32% from long range. A captain for the Pirates, he was a great inside presence who could step out and win a game from the 3-point line.
Logan Gallamore, also a team captain, scored 312 points, averaging 12.5 points per game, was second in rebounds with 173, including 75 offensive rebounds. An impressive stat considering he was our point guard. Logan also has 98 steals and 154 assists on the season.
Coaches Austin Mitchell and Ron Duggan were beaming with pride as their players were introduced. "We just can't say enough good things about the quality of these young men and women. They are great students and great athletes. It's been an absolute joy to be able to coach them", shared both coaches.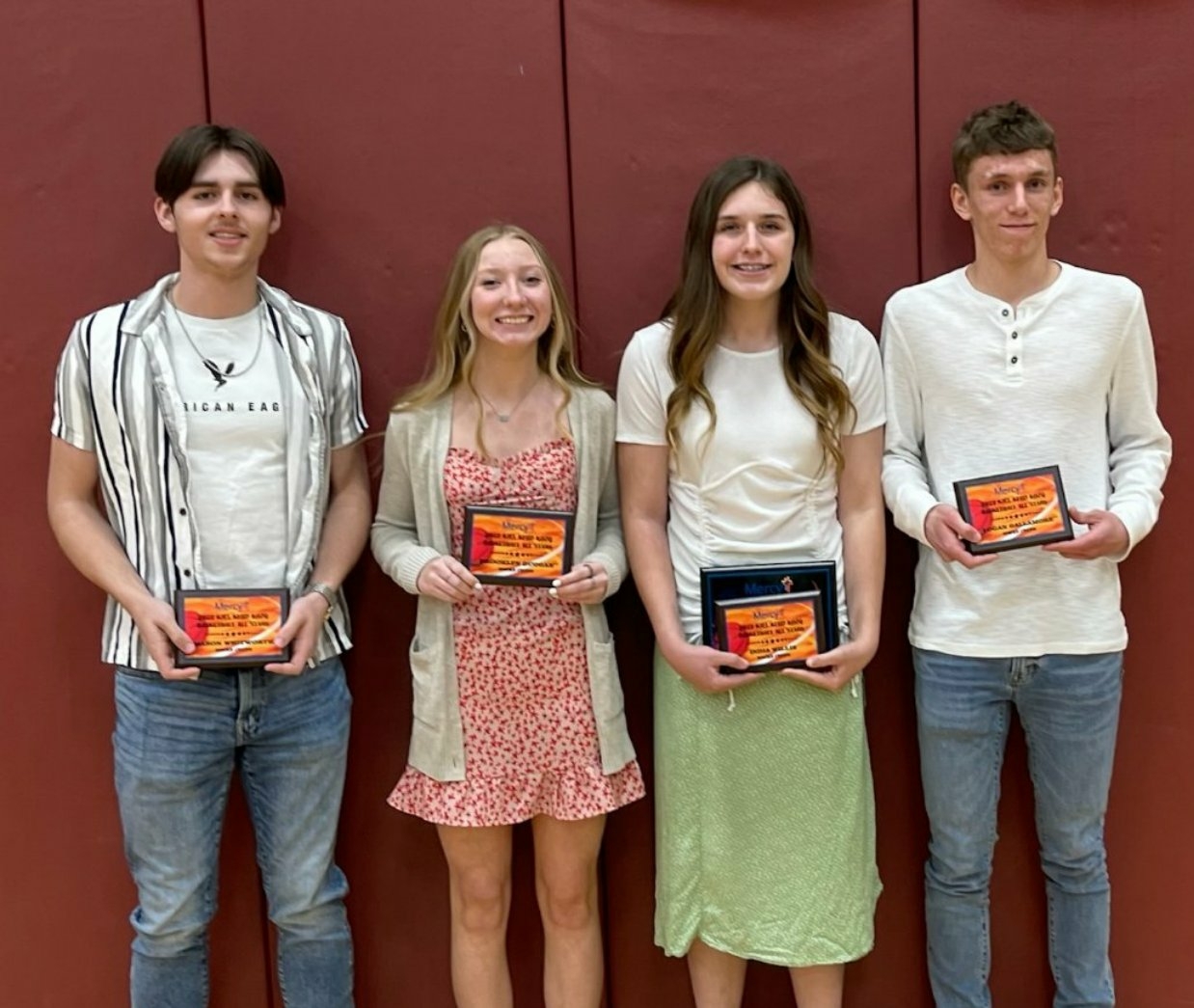 From left to right: Mason Whitworth, Brooklyn Duggan, India Willis and Logan Gallamore
Coach Duggan with Brooklyn and India
Coach Mitchell with Logan and Mason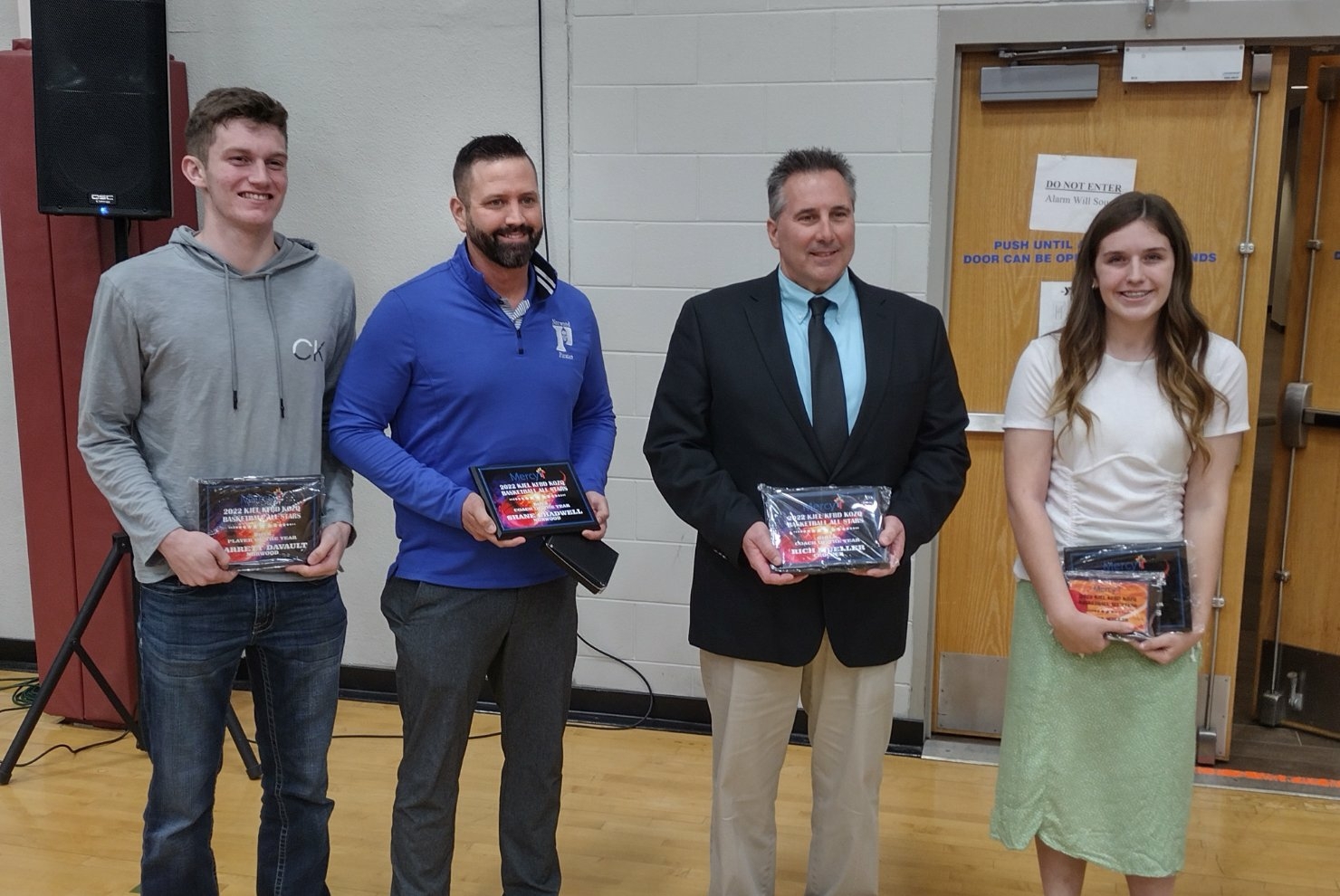 KJEL Girls Player-of-the-Year, India Willis with the Boys and Girls Coaches-of-the-Year and Boys Player-of-the-Year.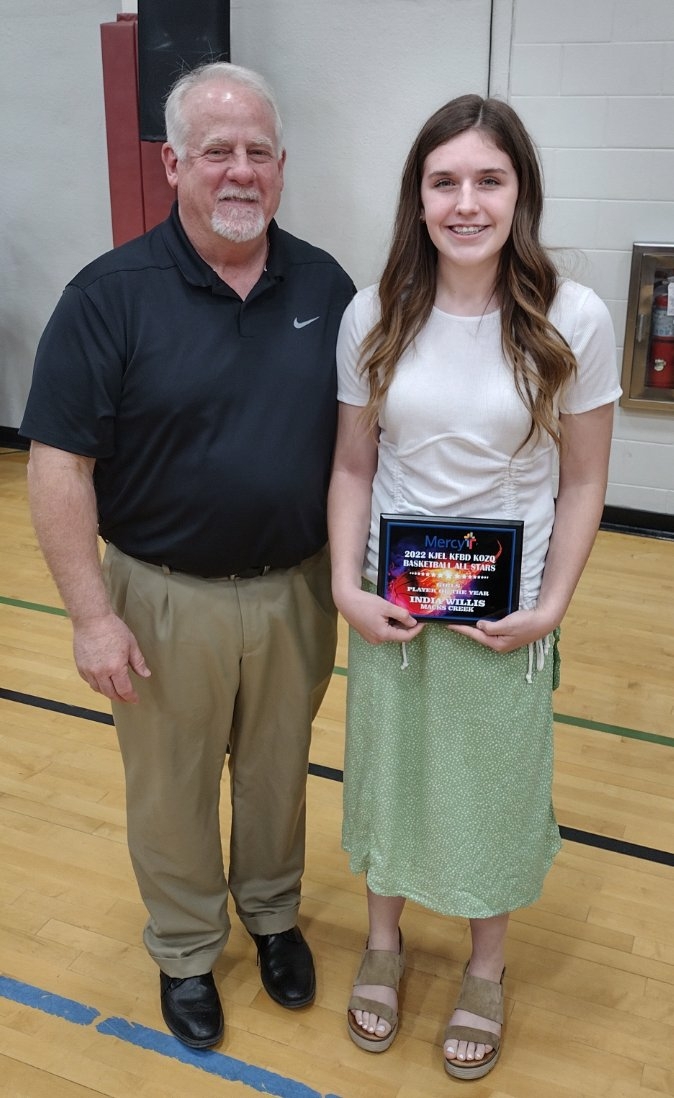 Coach Duggan and India
#MCPirates